LOOP-LOC: The One. The Only.
There's only one company known for manufacturing safety pool covers strong and tough enough to support an elephant: the legendary LOOP-LOC.
Founded in 1978, this family-run business' rich history of superior quality, customer service and unwavering dedication to unparalleled safety remains as strong as ever.
Today, LOOP-LOC is a global leader in the industry with a 200,000-square-foot headquarters in Hauppauge, New York, and 300 employees. Through its network of dealers, the company has sold safety swimming pool covers on every continent on earth except Antarctica.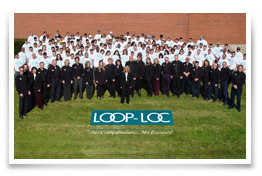 LOOP-LOC now also manufactures a line of luxury in-ground pool liners - with more exclusive designer patterns than any other company - as well as the BABY-LOC removable safety fencing, a convenient, cost effective additional layer of protection to help deter toddlers from gaining access to a swimming pool.
It's also part of our commitment to protecting your family:
Because at LOOP-LOC, we never forget what's important to you.