Safety Pool Covers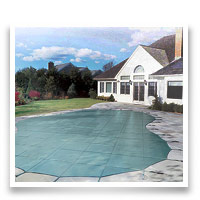 Ultra-Loc III Safety Covers
Exclusively From LOOP-LOC: The ULTRA-LOC III
®

Solid Pool Safety Cover Is Tougher than Tough, Stronger than Strong!

You no longer have to choose between the light weight of a mesh pool cover and the light-blocking benefits of a solid cover. The revolutionary ULTRA-LOC III gives you the best of both worlds!
It's the only solid safety pool cover that:
Premium coated vinyl material with enhanced 100% polyester Rip-Stop Scrim.
Bounces back better and drains super fast. No more ugly pockets of water and debris that is found with other solid vinyl pool covers.
Requires no pumping, scrubbing or heavy maintenance like solid waterbag covers. And it's much lighter in weight than typical solid vinyl pool covers, so putting it on and taking it off your pool is a snap!
Fits any pool or spa perfectly, from a simple square to a complex installation with a custom pool cover.
Blends beautifully into any backyard décor. It's available in your choice of green, blue, gray, or tan.
ULTRA-LOC III Is Revolutionary. Here's Why:
Blocks 100% of sunlight.
Faster draining! Its unique material "bounces back," so water quickly finds mesh drainage panels!
Exclusive computer-aided design ensures a perfect, custom fit for any shape or size pool.
Backed by a 15-year pro-rated warranty.
33% lighter than typical solid vinyl cover material!
Stays tight and beautiful year after year, in any weather!
Available with or without mesh drainage panels. Pool Covers without drainage panels blocks 100% of sunlight and is sold with an automatic pump, which must be used at all times to meet ASTM safety cover standards.
Standards and Certifications
LOOP-LOC Covers not only meet, but exceed ASTM standards for Safety Swimming Pools Covers F 1346-91. And to show our commitment and dedication to the safety and security of your children and pets, all LOOP-LOC covers have undergone extensive outside testing through Underwriters Laboratories (U.L.) and have earned the U.L. seal of approval for safety swimming pool covers.

Make Sure Your Family
Is LOOP-LOC Protected
Some dealers attempt to sell other companies' pool covers as LOOP-LOC. To make sure you're getting the real thing:
Ask for LOOP-LOC by name
Make sure LOOP-LOC is specified clearly in your contract or order form before you sign
Examine your cover. If you don't see LOOP-LOC sewn into the webbing on the cover, it's not LOOP-LOC.